January 14, 2020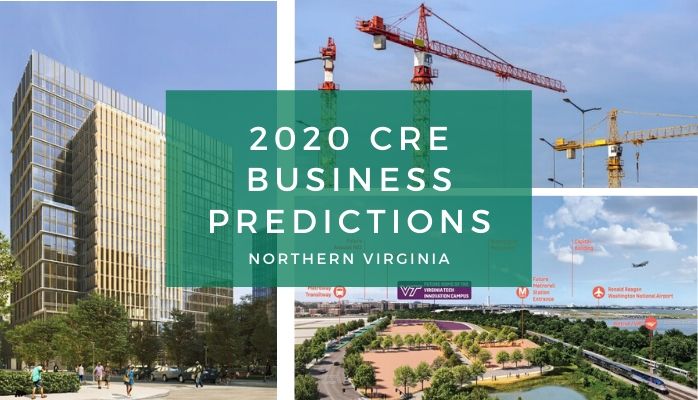 2020 CRE Business Predictions: Northern Virginia
With 2019 in the rearview mirror, now all eyes are on what's to come in the New Year. Our local area is going through significant changes that effect all industries.  With long awaited as well as new development projects under way, there is great anticipation on what 2020 will have in store for the region's commercial real estate market.  We know everyone has an opinion on where the market is heading and what will be driving it.  So, we asked local business and government leaders their predictions for 2020 for the Fairfax, Arlington and Alexandria commercial real estate market.  Let's see what they say!
Justin Wilson, Mayor, City of Alexandria
"With the new Metro Station under construction, the City is now underway with the exciting work of turning plans into reality in Potomac Yard. The detailed development plans for the Virginia Tech Innovation Campus will come forward for approval this year, as we work to fit this major new investment into the fabric of a Potomac Yard urban community that already includes growing neighborhoods and major employers such as Institute for Defense Analysis, National Industries for the Blind, American Physical Therapy Association, Kaiser Permanente and much more!
In the Eisenhower Valley, the City will be working in 2020 to take an area of significant growth for the past two decades and modernize it for the future. With the National Science Foundation and the US Patent & Trademark Office anchoring a vibrant neighborhood, we have the opportunity to accommodate new residential and commercial growth, served by two metro stations, parks, retail and road connections."
Ethan McAfee, Founder & CEO, Amify
"We moved to the National Landing area to be close to the new HQ2 headquarters and its impressive transportation infrastructure (Two metro lines, easy access to DC, multiple freeways, VRE train, and airport).  This area was once considered to be mostly a concrete jungle of mostly government contractors, but we feel the area will be vibrant as Amazon attracts more new restaurants/bars/activities to the area.
While people may criticize WeWork, they have shaken up the office market.  Gone are the days that landlords can demand 10-year leases.  It's now much easier to find high-quality short-term leases that allow growing companies more flexibility.  We believe eCommerce will continue to grow as shipping times decrease and more bricks and mortar stores go out of business.  With internet delivery times going from 10 days 20 years ago, to 2 days, to 1 day…. to 1 hour?  The percentage of product being bought online only increases.  We are excited to be part of that growth."
Ryan Touhill, Chief of Staff, Alexandria Economic Development Partnership
"The Alexandria office market is poised for a transformative year in 2020 that will set the stage for substantial economic growth in the years to come. Development plans for two key submarkets – North Potomac Yard and Eisenhower East – include considerable, and greatly needed, new office space. The City needs new modern office buildings in these submarkets to capture our share of the private sector growth and job creation that is forecast to come to our region. We know companies want to locate in Alexandria for reasons like our proximity to Washington, D.C., business-friendly environment, and access to a world-class talent pool. But what Alexandria is missing are modern office buildings that can support new and expanding businesses. Our New Year's Resolution should be removing the biggest barrier to growing our economy: lack of competitive office space.  Let's move forward with constructing what businesses want– new, trophy office space located in amenity-rich neighborhoods with access to transit, which will ultimately benefit the City as a whole."
Kerry Donley, Senior Vice President, Community Banking, John Marshall Bank
"With interest rates remaining at almost historic lows the ability to finance commercial properties, particularly owner-occupied real estate, will be favorable in 2020.  Community banks will be looking for opportunities to deploy loans to generate interest income and coupled with good rates the environment should be favorable for borrowers.  In Alexandria in particular, real estate values should be buoyed by the advent of Amazon HQ, the Virginia Tech Innovation campus and the construction of the Potomac Yard Metro station.  All of these events will span the next two to three years or more serving to bolster property values which should be good for buyers, sellers and lenders alike."
Don Simpson, Jr., President, Simpson Development Co., Inc.
"As far as lease rates are concerned, we feel lease rates will remain stable this year, but to remain competitive the typical buildout allowance will be increased. We also see the need to increase the availability of base building amenities to remain competitive. With steady lease rates and higher improvement cost, the overall rate of return on our investments will be lower in 2020.
We are hopeful that our portfolio vacancy will not increase but we are seeing most of our lease renewals at the same rate without any increase. We also have experienced a longer duration to release vacant space and forecast that to remain the same for the new year, the good news is that we do not forecast many tenants having to reduce their space needs upon renewal although we typically have a smaller business size in our portfolio.  Overall, we remain optimistic with both our commercial office and industrial flex space performance remaining positive over the next 12 months."
«
Previous
Next
»