May 26, 2020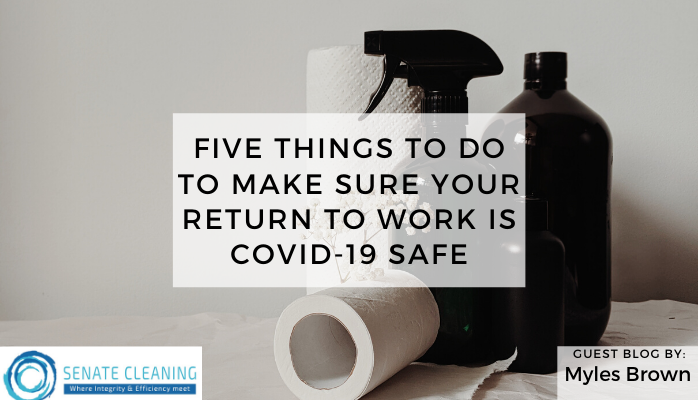 Five Things To Do To Make Sure Your Return To Work is COVID-19 Safe
Guest Blogger: Myles Brown, Senate Cleaning
COVID-19 has completely changed the way we live our lives. Social distancing and protective face wear have become the norm and, high on people's mind, is the cleanliness of whatever space they're occupying. There are a few key services you can have done to your office before your staff returns and services that will maintain COVID-19 standard of clean. Here's what we suggest to ensure the health and safety of your employees during your return to work. 
Wear face masks inside and outside of the office. This is a no brainer. Society has grown weary of social distancing, limited business operations and being quarantined. Many folks have decided not to wear face masks, thinking the worst is behind us. It is not. Face masks are an easy and affordable way to stay healthy and prevent the spread of viruses. The eyes, mouth and nose are the main way viruses can enter the human body. Be considerate and wear your mask. If you do not have enough masks to outfit your staff, talk with your contracted cleaner to help with providing quantities enough to go around.

 
Disinfect bathrooms, kitchens and other high traffic areas often. Any area commonly used by staff should be disinfected regularly by staff and deep cleaned by your contracted cleaner. Make sure to wipe down surfaces like sink tops, keyboards and desktops. Your contracted cleaner should deep clean all surfaces daily with commercial disinfectant. This means light switches, door knobs, railings, etc.
Schedule regular fogging disinfectant deep clean. This is a service not all contracted cleaners provide so make sure to check with yours. During this cleaning, a fogger is employed to saturate any surface completely with disinfectant, not missing a spot. This is a more efficient way of deep clean because the fog covers and reaches a wider surface area in less time.

 
Equip your business with automatic hand sanitizer pumps. These pumps should be at all entrances, kitchens and bathrooms. Having these pumps around are convenient and makes it easier for people to remember to sanitize.

 
When all else fails, remember to wash your hands. Do not underestimate the power of washing your hands. Have a good disinfecting soap like Dial readily available in all bathrooms and by all sinks. Even with hand sanitizer, you can't beat good old fashioned soap and water.

 
These few things will ensure that you are doing your part in fighting against the rise and spread of COVID-19. It's important during these times not only to have a contracted cleaner that you trust, but to communicate with them and make sure you are moving forward in the safest way possible for you and your staff.
Myles Brown is a native Washingtonian, father of two, and the Owner of Senate Cleaning LLC.  Senate Cleaning has serviced the Washington Metropolitan commercial market for over 10 years. To learn more about how to clean and protect your work environment, visit www.senatecleaning.com or call (800) 257-8438.
Click Here to for Senate Cleaning
Click Here for more CRE articles
«
Previous
Next
»