March 6, 2020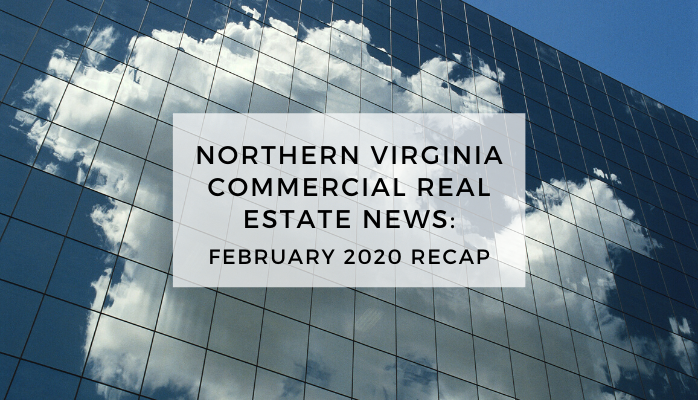 Northern Virginia Commercial Real Estate News: February 2020 Recap
Northern Virginia Commercial Real Estate is moving faster than ever. Let's take a look back at all the big CRE stories from February 2020:
George Mason is looking for private partners to help build an expansion of their George Mason Arlington campus. The preliminary plans call for 225,000 square feet of academic space and 135,000 square feet of private office and retail to support Mason's new School for Computing. Mason also plans on rehousing their Institute of Digital Innovation to a new Virginia Square location, which will include 460,000 square feet of mixed-use space. The funding for this expansion comes from Gov. Ralph Northam's deal to bring Amazon to Arlington and provide more graduate students in high-tech fields.
Amazon quietly purchased the land that the pair of HQ2 towers will be built on for $154.95 million, according to Arlington County Records. Work is already underway to demolish the single-story warehouse currently on that land to make room for the pair of 22-story office buildings that Amazon plans to complete in 2023. Currently, that land is known as Metropolitan Park, a 6.2-acre site where Amazon plans to include outdoor space alongside the new development.
President Donald Trump's administration drafted an executive order called "Making Federal Buildings Beautiful Again." The order would make the classical style inspired by Greek and Roman designs the required inspiration for all new federal buildings. Specifically, this order would recast rules for the designs of any federal building project costing more than $50 million procured through the General Services Administration. In a statement to Architectural Record, the American Institute of Architects roundly criticized the order: "The AIA strongly opposes uniform style mandates for federal architecture. Architecture should be designed for the specific communities that it serves, reflecting our rich nation's diverse places, thought, culture and climates," the statement reads.
The Environmental Protection Agency is planning to move from leased space in Potomac Yard to the federally owned William Jefferson Clinton complex in downtown D.C. The General Services administration is seeking $48.7 million to renovate the Clinton building for additional EPA employees. Starting in March 2021, the GSA plans to move about 1,200 employees to a renovated Clinton building.
A shopping center in Woodbridge sold in February for $37.85 million. Alto Real Estate Funds announced the purchase of Prince William Square from an affiliate of Rosenthal Properties. The 232,957 square foot strip mall is located across from Potomac Mills and is 89% leased with tenants such as MOM's Organic Market, Ross Dress for Less, and Ashley Furniture.
Developers of the North Potomac Yard Overhaul have settled on five architectural firms to design the nine buildings that are planned for the first phase of the overhaul, which will include the new Virginia Tech campus. The choice to have five separate design firms aims to keep the new development from looking too alike. The project's first phase includes Virginia Tech's first academic building, where Regal Cinema now stands. Virginia Tech has chosen SmithGroup to design the first building for the science-focused graduate campus, which will be 300,000 square feet in its final designs, and could cost $257 million to construct. Expected construction will be delivered in August 2021. The other six buildings that make up phase one of the North Potomac Yard Overhaul will be designed by D.C.'s Hickok Cole Architects, who will design two office buildings, Boston's Elkus Manfredi Architects, who will design one office building, Hord Coplan Macht, who will design two residential buildings, and New York's CookFox Architects, who will design one building.
The South Alex Development on Kings Highway suffered a massive four-alarm fire, causing $48 million in damages. South Alex, in the Alexandria section of Fairfax county, was expected to have 400 residential units, 41 townhouses, a 20,000 square foot Aldi, and 20,000 square feet of other retail. Combined Properties, the developer, expected to deliver in 2021. A representative from the development says it has been 'destroyed.' Along with the main building, the fire affected 14 of the townhomes—some of which had already been sold. It also caused damage to five nearby apartment buildings, 14 townhomes, four single-family homes, 29 vehicles and multiple pieces of construction equipment. According to the Fairfax Fire Department, the fire was the largest in the county's history. The fire started due to an improperly discarded cigarette butt, and spread due to the fact the building did not yet have fire walls or sprinkler systems installed.
«
Previous
Next
»