May 10, 2017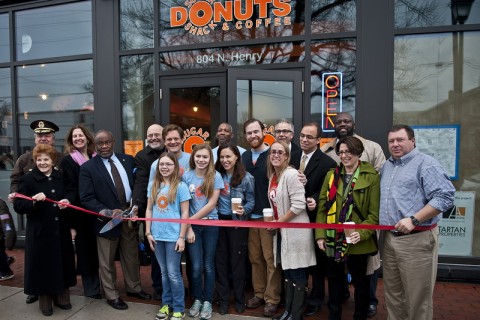 Sugar Shack Donuts Lands in Alexandria
February  5, 2015 – The much anticipated Grand Opening of Sugar Shack Donuts in Old Town, Alexandria has arrived.  Customer lines out the door are a regular occurrence we hear. Rumors of "Donut Rationing" has been circulating so everyone can taste one of the hand made, artisan donuts.
Sugar Shack Donuts came to Alexandria by Virginia House Del., Rob Krupicka. He reached out to Tartan Properties Commercial to help find the right space for the franchise's first Northern Virginia location. The successful January 24th reveal, was attended by members of the Alexandria Chamber of Commerce, City Council and Mayor William D. Euille. Alexandria residents were also able to join in on the fun with a free house donut, as the franchises Freebie o' Day.
Since the Sugar Shacks opening, Alexandria is now experiencing the same donut craze that took over Richmond, Virginia. Because of its successful grand opening and early acclaim, the Sugar Shack has been in such a high demand. Therefore the owner, Rob Krupicka, and Tartan Properties Commercial have begun the search for the next Northern Virginia location. Follow the Sugar Shack on Twitter for daily specials and events. It is located at 804 N. Henry Street, next to the recently opened Lost Dog Café.
Tartan Properties Commercial is a leader in Alexandria Commercial real estate and provided Alexandria tenant representation services to Sugar Shack Donuts.  For more information on Tartan, please call our offices (703) 836-6555.
«
Previous
Next
»