February 7, 2020
All You Need to Know: Richmond Highway BRT Line
With all of the new development projects underway or in the pipeline in the Northern Virginia Region, it's easy to forget about the all the projects coming to the Richmond Highway corridor. Along with new housing, retail, trails, and bike lands, one of the area's newest forms of transportation is coming in the form of the Richmond Highway Bus Rapid Transit (BRT) line. The goal of the BRT is to increase mobility along the Richmond Highway corridor, with the ultimate goal of someday converting the BRT to metro rail service in Hybla Valley.
Quick Facts:
The BRT will cover 8.6 miles along Richmond Highway (Route 1) and North Kings Highway
Design for Phase 1 to be completed 2022 and construction completed 2026
Design for Phase 2 to be completed 2023, and construction completed 2028
Overall project cost for BRT is $700 million
Partly funded by Northern Virginia Transit Authority (NVTA)
Funding for Phase 1 has been fully appropriated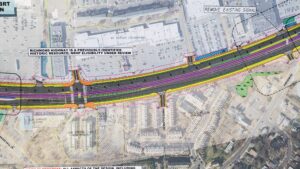 The Richmond Highway BRT line is expected to operate like rail but with buses, and will have dedicated traffic lanes and signal priority. BRT will also have bus tracking technology, and will aim to overall be more passenger friendly.
Phase 1 of the BRT project will run 0.7 miles from Huntington Metro Station to Richmond Highway, and then 2.4 miles to Hybla Valley with construction completing in 2026. Section II of the project will run 5.5 miles from Hybla Valley to Fort Belvoir. The design for this section will be completed 2023 and construction is expected to finish in 2028. Overall, the BRT will run 8.6 miles in length.
The BRT is facilitated by the Virginia Department of Transportation (VDOT) widening of Richmond Highway, which will happen before the BRT lines are put in. The acquisition costs of private land and the subsequent construction cost to widen the highway will cost Fairfax County $214 million.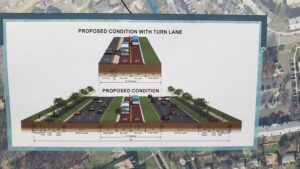 It is unclear at this point how property values will be affected by the BRT and the Richmond Highway widening in the near term, but properties in this area likely will not be affected by Amazon HQ2, like many other areas of Northern Virginia.  The ultimate vision is to create a new residential and commercial community along the corridor that can rely on mass transportation to the south to Fort Belvoir and north to the Hunting Metro and then on to other employment opportunities.
The larger redevelopment of Richmond Highway is expected to include bike lanes, better sidewalks, more large and medium sized housing as well as affordable housing, retail, gas stations, and more. Fairfax County is also looking at ways to rebrand the area to attract more tourists, including renaming a bus to advertise service to Mount Vernon, hoping tourists will use more public transportation to get around.
Tartan Properties currently has land for redevelopment available on Richmond Highway. For more information, Click Here.
More Information on this project can be found here.
«
Previous
Next
»