January 23, 2020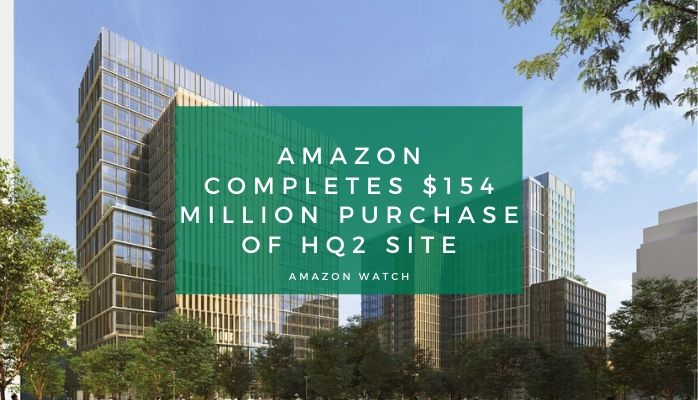 Amazon Completes $154 Million Purchase of HQ2 Site – Amazon Watch 002
As of last week, Amazon is now the official owner of several Crystal City sites where they plan to develop a pair of 22-story towers for Amazon's second headquarters.
Amazon previously announced a development with partner JBG Smith to purchase $154.95 million of land, totaling 10 parcels all together. That deal is now done, freeing Amazon up to begin renovating and demolishing Crystal City's 1950's era buildings to make space for HQ2, which they previously annouced they would begin construction for in early 2020.
According to CoStar, "JBG Smith sold the Metropolitan Park sites as the downleg of a 1031 exchange, or the swap of two similar investment properties that would make the trade tax deferrable. JBG Smith bought the F1rst Residences, a newly built, 385-unit complex located at 1263 First St. SE., in a $158.7 million deal last month as the upleg."
Further, Amazon has received approval, after pledging the largest contribution ever to the country's affordable housing fund, to build the Eads Street Towers. The towers, originally zoned for residential development, will now be made up of 2.15 million square feet and will house 2,500 of Amazon's employees.
Now called Metropolitan Park 6 and 7/8, the towers will be Amazon's first construction started from the ground up. In addition to office space, the towers will also include 70,000 square feet of space for shops, restaurants, a day care center, outdoor terraces, and underground parking.
Information from CoStar Article By Bryce Meyers
This blog post is part of TARTAN Properties series on Amazon's progress and effect in Northern Virginia

«
Previous
Next
»