September 25, 2020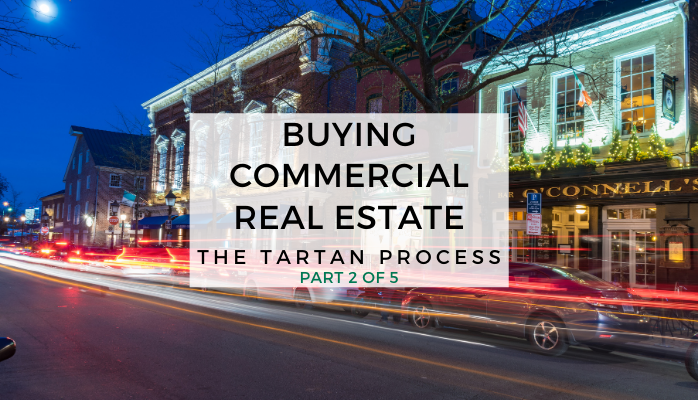 Buying Commercial Real Estate
The TARTAN Way
The Commercial Real Estate world, for a first-time buyer or seller, can be daunting without proper guidance. In this five part series, we're going to be sharing the process that TARTAN goes through with our own clients to try to demystify selling, buying, and leasing commercial real estate.
Buying commercial real estate can be an excellent investment for your business or personal wealth but it can be complicated and is not without risk.  The process of acquiring commercial property is a transactional one, and the thoroughness of the process and the due diligence we undertake together will dictate how successful you are.  By following these basic steps in TARTAN's Buying Process, you are more likely to achieve your target pricing and timing.
Preparation
Initially you must be clear on your goal for why you want to own commercial real estate.  Is the purchase strictly for investment purposes or is it to locate your business, or a combination of both?  With this understanding, we will guide you through a process that will help you reach your goals.
We begin with a needs analysis to determine as precisely as we can what you are looking for in a property. We will ask you about your business model and culture.  We'll need to know the type of space required, how many full-time employees you have, your design tastes, how you will use the space, your preferences for location and any major "must haves."
If you are purchasing as an investment property, we will look at your long-term strategy. What are your expectations about the ROI and cap rate?  What is your tolerance for risk? What type of asset are you interested in: office, retail, or industrial?
Next, we'll work on the budget considerations. Obtaining a new space, particularly if it is your first, is likely to bring a few unanticipated costs.  We will make sure to have a clear understanding of your financial picture—savings, creditworthiness, revenue projections—so that we can best guide you to appropriate properties, as well as potential lenders.
Along with your budget, we will want to know if you have any other liabilities to consider. For example, will we need to sublease your existing space for the remainder of a lease, refinance your personal residence for a down payment or sell another property in order to make this deal work? This affects the speed in which you could close on a new property.
Also, we will encourage you to assemble a team of professionals to help evaluate the current condition of the building, and the feasibility of any proposed modifications. This team may include an architect, a general contractor, an environmental inspection firm, commercial lender and a real estate attorney.
The Search
When we have a good understanding of what you need, the search will begin in earnest.  Finding the right property can take months or even years.  Patience is always in order.  Here's how TARTAN will support you during the search process by getting you to the right opportunities:
We will perform a comprehensive market survey and build a list of available properties that meet your requirements. The list will consist of on-market options which you might have seen online, as well as properties listed only through industry websites.  In addition, we may also have off-market properties to present to you based on our connections in the community.
We will organize site visits of the preferred buildings. Getting out and touring properties not only helps pare down the list of options but builds your knowledge base on what is available and what the market value is currently. This helps move the process in the along as you build knowledge.
Looking more closely at the numbers, we will make sure you have the full picture of costs associated with the property—utilities, taxes, and other operating costs, including upcoming capital improvements (e.g. HVAC and roof. We will also take into consideration recent comparable sales and relevant economic and demographic trends for the area so that you have the full picture for each opportunity.  For investment properties, this will include current tenants' lease rates and terms, and corresponding cap rates.
Proposals, Contracts & Negotiation
As we refine our understanding of what type of property and deal will work best for you, we will consider the specific deal terms you may include in your offer: purchase price, earnest money deposit, the length of the study period, the timing of the closing, and contingencies (such as financing, environmental, and special use permits). It's not always just about price.  These other elements of the contract may materially impact the overall value of the deal to you or your company.
Once you have identified a target asset, we will prepare a formal offer—also called a "letter of intent"—on your behalf. It will outline the basic economic terms, timing issues around financing and due diligence periods, and other business terms which will become the framework of the purchase and sale agreement.  We can be as detailed in the proposal as needed for that particular deal: the more specificity, the less likely there will be confusion or misunderstandings when we draft the sales contract.
Sales Contract and Due Diligence
Once a contract is signed, the process of securing financing, performing inspections and verifying the details of the property begins.
In commercial real estate transactions, detailed due diligence is of the utmost importance. This ensures that the property is what it is reported to be and can be used in the manner you intend with the appropriate zoning.  We will guide you through a customary 60-120 day study period to lead inspections, appraisals and document review.
During the study period, many things can take place at one time so we will closely track the calendar. There will be a number of deadlines in the contract for your earnest money deposits, financing, study period, and so forth.  Knowing exactly the conditions under which you are allowed to terminate the contract and when your earnest money goes at risk (if you don't go to closing) are key elements of the deal that must be tracked.
Settlement
If it is determined the property meets all of your expectations and you elect to follow through with the acquisition, we will continue to coordinate the document collection that leads up to settlement between the closing attorney and your lender.
Commercial real estate transactions typically involve a significant investment of money and risk.  For these reasons, we recommend our clients follow a buying process.  Having the steady guidance of TARTAN to find the best properties to fit your needs and negotiate hard for your interests, will put you on your way to a successful acquisition.
Part One: Selling Commercial Real Estate
«
Previous
Next
»