February 22, 2021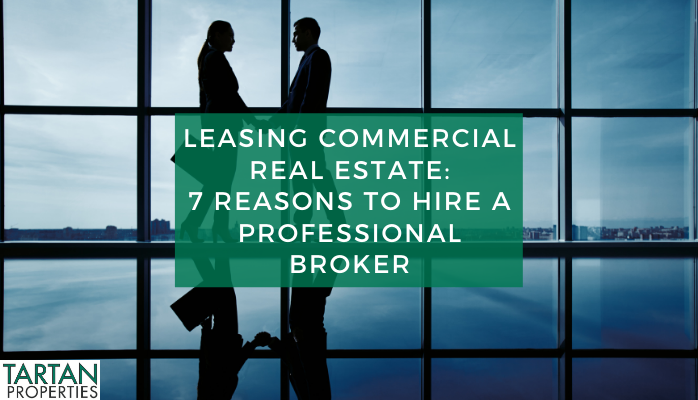 Leasing Commercial Real Estate: 7 Reasons to Hire a Professional Broker
Commercial leases are not standardized you need to know what to negotiate on and what is reasonable.
There is a common misconception by some that real estate brokers are but mere "space finders" for tenants and buyers in the market, and that once the ideal property is located, the process is mostly completed.  In this DIY age that we live in, and the increasing access to online real estate listings and information, the temptation to go it alone has never been greater.  Here are seven reasons why hiring a tenant rep broker is in your best interests, especially in the market we are currently working in.
Information Access. The first thing to know is that a qualified broker has access to more properties than are visible to the public online, no matter how many different ways you Google-search "Alexandria commercial real estate" or "Warehouse space for lease Fairfax." While popular with the public, the listing sites like LoopNet only display properties that the owners' and brokers have specifically paid to advertise, and those visible are estimated to be a small percentage of all available properties.  The most comprehensive of the listing services, CoStar (that also owns LoopNet), is accessed only with a paid subscription—one that only brokers can obtain.

 

Unlike the residential market, the commercial real estate market has no aggregating websites that bring together all of the publicly-accessed listing sites.

 

Thus, the sense that the internet offers complete access to all available properties is an unfortunate illusion.

 

A tenant representative can provide access to all properties that are actively on the market. Additionally, a well-established broker may have access to off-market or soon-to-be-listed properties.
Knowing the Market. Knowing the current market conditions, and more specifically how hard to push a landlord on rental rate and concessions, is the real value that an experienced tenant rep can provide.

 

Market conditions change quickly.

 

Look what the Coronavirus did to leases that were signed in January of 2020.

 

Very quickly those deals were "Above Market Value."

 

Or look what the announcement of a deal with Amazon or Virginia Tech can do to value or the perception of value.

   

Your landlord will have likely negotiated a lease more recently than you have, putting you at a disadvantage.

 

Knowing where the market deals are trading is where your tenant rep provides value.
It's Nuanced.

 

A good tenant broker can not only save you money, but save you time.

 

If they fully understand the nuances of your requirement such as parking, zoning requirements, space access, etc., they will keep you from chasing deals that ultimately won't work for your needs.

 

They will know the right questions to ask landlords to get to answers and solutions quickly.
Breaking Down the Numbers.

 

Obtaining a new space, particularly if it is your first, is likely to bring a few unanticipated and hard-to quantify costs.

 

A broker will help make visible all the costs associated with different properties—utilities, taxes, operating costs, CAM fees and so forth–so you can make an apples-to-apples comparison of your options. For example, if you are new to the leasing process, you will need to know the differences between triple net, gross and full-service leases, so that you can make the correct financial comparisons.
Who Pays?

 

Not You.

 

Let's talk money–the broker's commission.

 

For those new to the commercial real estate process, there is great news here: you don't pay your broker's commission, the landlord does.

 

Your broker gets paid only if and when you sign a lease.

 

Knowing that, why wouldn't you enlist the expertise of a professional?
The Smart Take from the Strong.

 

The task of securing real estate is a perfect example of the challenge of imperfect market information.

 

In real estate, the property owner is much more likely to hold the cards, as they have experience and information about local market pricing and conditions.

 

Going into negotiation on your own, with potentially less knowledge than the person across from you, is an invitation to pay more than you have to.

 

Landlord's are not in the business of giving away more than they need to. Your broker can level the playing field.

 
Assemble a Team. Hiring a real estate attorney to work in collaboration with your broker to negotiate the specific details of your lease will further ensure the deal you sign will be durable over the term for your business and won't provide and surprises like a landlord termination or hidden fees that you unknowingly agreed to. Brokers will know the best contacts for attorneys, contractors, architects, etc. in an area and help you assemble a trustworthy team to get you started in your new space.

By Mike Porterfield, Tartan Properties Commercial
Mike Porterfield (mike@tartanproperties.com) is the Principal Broker of Tartan Properties Commercial, an independent real estate brokerage and consulting firm specializing in Alexandria and Arlington commercial real estate. Founded in 1973, this family business handles office, industrial, and retail properties in Northern Virginia, and provides both tenant and landlord representation. To learn more about Tartan Properties, please visit tartanproperties.com. Your inquiries about the local real estate market and individual properties are welcome at (703)836-6558.  
«
Previous
Next
»